Encaustic Cement Tile Installation Tips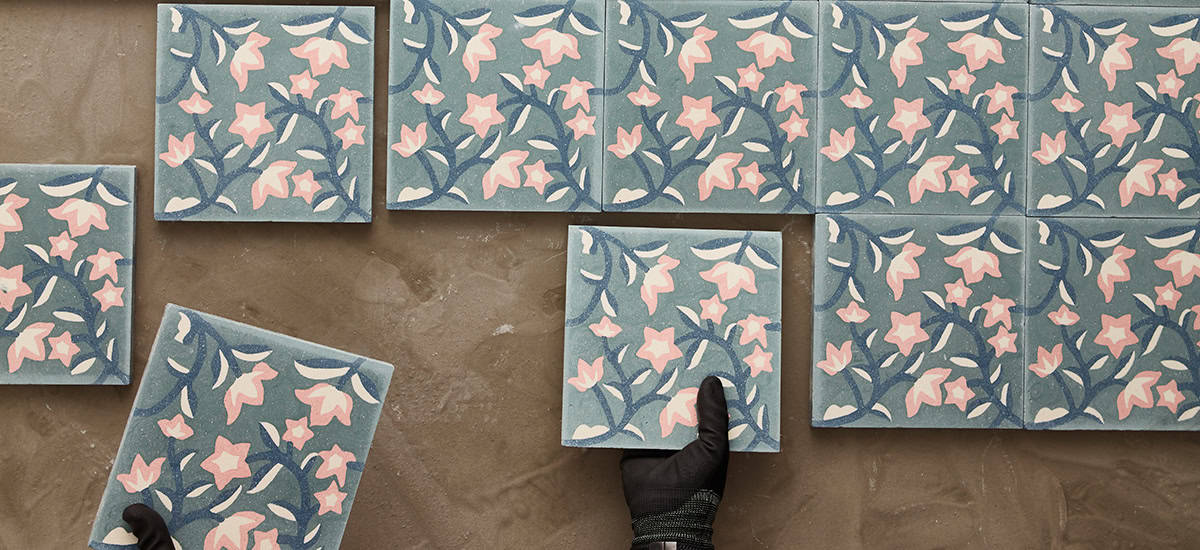 Although DIY has become a popular trend in recent years, perfect tiling still requires a bit of mastery and experience. Please bear in mind, these installation tips under this section for general information purpose only. If you have no experience in tiling, we highly recommend an experienced tiler.
How to install handmade encaustic cement tiles?
The surface must be level, dry, clean and free from dust and oil.

Please note that they are handmade products and are produced by using natural materials. Slight thickness, weight and colour tone differences are inherent feature. To avoid stacking similar tiles in the same place, tiles should be selected from different boxes.

Tiles should be cut with a diamond cutter or angle grinder and cleaned immediately afterwards.
We suggest you use a glass vacuum lifter for tiling.

The tile installer must allow space for grouting when setting the tiles. We recommend 1mm for the best aesthetic results.

The flexible adhesive is recommended for areas subject to sudden changes in temperature.

Waterproofing materials must be used for wet areas.

If applicable, floor heating systems must be turned off at least 12 hours before tile setting. Leave 3mm of grout space if you are installing the tiles on the underfloor heated floors.

Rubber hammers or similar tools cannot be used for setting the tiles as they may cause hairline cracks.

Please seal the tiles If you will use dark coloured grouts.
Grouting may only be applied after a delay, typically one day. The waiting time depends on the surface, environmental conditions and the type of adhesive used.

Once the setting and grouting are completed, allow an extra drying period before use to avoid movement and cracks.

Excess grout must be cleaned immediately with clean water and a new sponge. Do not allow the grout to harden on the surface.

If the grout hardens, you can clean it with non-acidic chemicals, but it must be rinsed immediately with a sponge and water.
Sealing the tiles is a must.

Cement tiles with incomplete sealing will be subject to gathering dirt and absorbing stains.

Clean the surface lightly with sandpaper.

Wash the tiles with clean water.

Allow drying thoroughly before using a quality sealant e.g Lithofin.
Tiles can only be cleaned with natural ingredients soaps. Otto Soaps are available both in London and Istanbul showrooms.

A marble grinding machine must be used for not grinded cement tiles. Using the wrong grinding stones may cause scratches on the tiles which collect dirt.

Quality sealant must be applied after the grinding/polishing process.

Use sandpaper to remove any dirt from the surfaces of the tiles.
How to cut encaustic cement tiles?